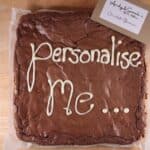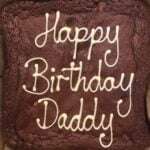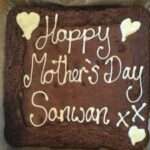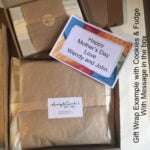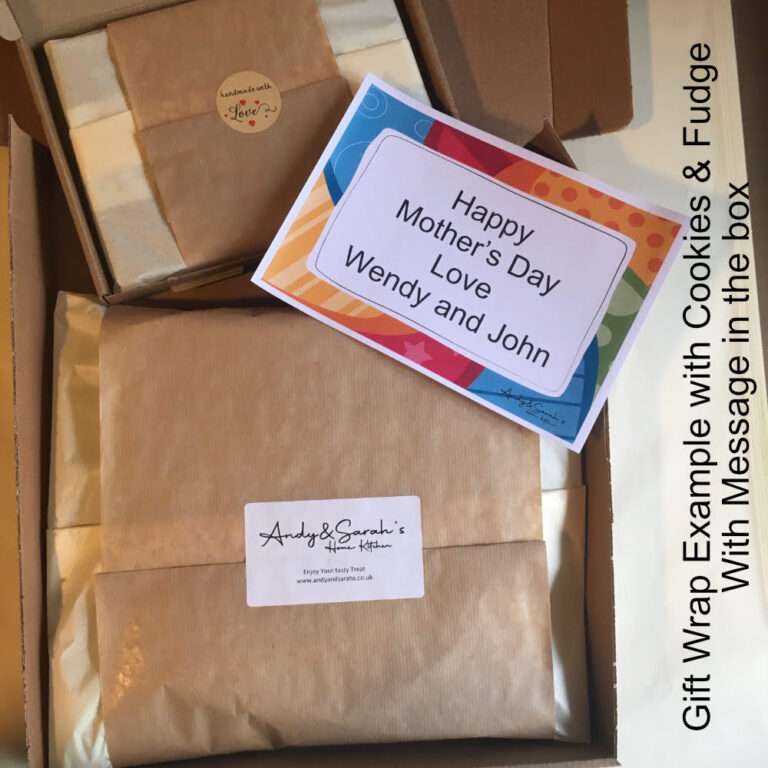 Double Chocolate Brownie Giant 8″ Personalised
£12.99
If nothing will add to cart: please be sure to select all options and fill in all text boxes marked with a red * above
Our Chocolate brownies are made using real chocolate, not just cocoa powder, they are very moreish, very chocolatey, velvety, moist and addictive, you have been warned.
Available in: a Giant 600g double Chocolate Brownie, that will yield around 12 large slices. We offer FREE personalisation and delivery in the UK.
The brownie will last no less than 14 days in an airtight container.
Ingredients / Allergy Information For Double Chocolate Giant Personalised Brownie Cake 8″
INGREDIENTS: Sugar, Butter (MILK), Chocolate (Sugar, Cocoa Butter, Dried Skimmed MILK, Dried Whole MILK, Dried Cream (MILK), Whey Powder (MILK), Lactose (MILK), Butterfat (MILK), Emulsifier (SOYA Lecithins), Vanilla Extract, Cocoa Solids 28% minimum, Milk Solids 14% Minimum), WHEAT Flour (Contains Calcium, Iron, Vitamin B3, Vitamin B1), EGG, Raising Agents (Baking Powder (E 450 (Diphosphate's), E 500 (Sodium Carbonates), Maize Starch)).
For allergens including cereals and gluten please see ingredients listed in BOLD. 
Allergy Advice: Although the product is made in a kitchen that does not contain nuts or peanuts, our ingredients such as milk chocolate do have nut and peanut warnings, we ask for nut and peanut sufferers to proceed with caution. Due to this, All our products may contain cereals, gluten, egg, nuts and peanuts. We cannot guarantee an allergen-free product.
What is Gift Wrapping & Messages in the box?
Gift wrapping is a great way to add a little extra luxury to your personalised sweet treat gifts and can now be added during checkout for an extra cost of £2.99, our gift-wrapping service is a one-off charge for the entirety of your order regardless of the number of items you have in the cart.
We have shown an example image of the gift wrapping in the displayed pictures above.
You will find the message in the box inside the parcel, it is in the form of a colour printed message A5 card, it should be the first thing the lucky receiver should see upon opening the box, please note.
The gift wrapping is the product in its vacuum bag to keep it fresh and safe, along with paper and tissue wrapping to present it as a well-presented gift. Please note, it is not a box within a box.
If you order more than one giant cookie or giant brownie we will gift wrap them in individual boxes and place them inside a delivery bag so that they are all separate but delivered together in the form of a parcel (not letter box friendly), if they are for different people, we will place the recipient's names on each box so that you do not need to open the box.
We never send any receipts or delivery notes with any order as all this is electronically sent to you via email
Non-gift wrapped items will be sent vacuum packed and all bundled into one large box with a basic non-colour message in the box.
This is the second time I have ordered from Andy & Sarah's. The ordering process was simple with good information available for any questions. I ordered a large cookie which was decorated just how I asked and the packaging was satisfactory. It was great to receive updates so I knew how my order was progressing. The most important thing I need to say is the cookie tasted delicious.

Fantastic.... communication was fab. Loved the updates at each stage.. the gluten free giant cookie was AMAZING ... Unfortunately as my son's name was on the cookie he was reluctant to share ! I did steal a bit ... Loved it really delicious ? .. thank you .. will definitely order again and highly recommend ....

I ordered this as a gift and the recipients are delighted as one cant take anything with colours and this was perfect. Well packaged and I am told extremely delicious and tasty. When I called took time to answer all my questions - I highly recommend this company does what it says on the tin !!!

Really pleased. Had this sent to my family during lockdown. They said it was totally yummy and the perfect surprise. Lovely communication from start to finish. I was even sent a photo of the finished product. 5/5. Couldn't be more pleased. Thank you so much.

Lovely cookie. Fantastic ebayer. Great communication *****

Brilliant, they loved the cookie! Thank you

Great service and great looking cookie! I ordered the birthday cookie as a gift for my nephew and was assured it tasted delicious!

Excellent Ebay first class

Delicious cookies and prompt delivery!

Ordered a personalised cookie, tasted amazing!!! Delivered within 24h since the dispatch, packaged so well and safely, it stayed fresh despite opening it a few days later! Also great communication through the preparation/delivery process via emails! Would definitely recommend!

Very happy with the cookie and the service

Ordered a delicious personalised love heart cookie as a gift. Great service, Sarah sent a photo over before posting so I could see it. Fast delivery and no breakages. Lovely people - I'd definitely buy again.

Great ebayer - perfect item thank u

Excellent service. Lovely Cookie sent to Grandson during lockdown. Thank You

Great eBay seller , Fantastic cookie, Quick delivery, Thank you

Thee best brownie I have ever had!! Also the fudge was absolutely divine. Ordered for my husbands birthday and loved it so much I've re-ordered two weeks later! Will make this a regular treat it's just delicious! God help my waistline.

Andy&Sarah's did a bulk order of personalised giant cookies for me. It was totally hassle free, and after ordering when I had some questions I used their live chat service and they got back to me really quickly. I originally went to order via a more well known company but I found Andy&Sarah's to be much more customer focused, friendly and cheaper too. All my cookies were sent out on the same day to four different addresses. I personally haven't tasted the cookies but my four happy bridesmaids assure me they are delicious!

I don't normally leave reviews but thought I really should this time!! Everything was spot on - from ordering to eating(!!) - great communication at every stage and the cookie arrived very well packaged so it was perfectly in tact. We really enjoyed it and definitely recommend it warm as per the instructions- fabulous product and a fabulous service!!

Absolutely brilliant company.I was kept informed from start to finish.Cookie came beautifully wrapped and lovely presentation.I would highly recommend them and will definitely be purchasing again for the next occasion 10/10

Great service and a very yummy cookie.

I bought this as a gift for my husband, hands down the best cookie we have both ever had! So delicious, it was gone in minutes Thank you Sarah and Andy 🙂

The cookie was delicious and delivered very quickly! Exceeded my expectations!Very helpful over message when I thought I had made a mistake on my order - replied promptly and helped me figure out a solution!Will definitely be ordering from here again!

A*** excellent many thanks

Many thanks from ?tropical-plants-and-seeds? happy growing!

V. Fast delivery and scrumptious as always thanks again! ?

Speedy despatch! Great tasting cookies at a competitive price. Very pleased.

Excellent seller. Thank you. X

Easy to use website, absolutely beautiful XL Cookie (yummy!) And tasty hkme made fudge. Everything from ordering to customer service was excellent. Even sent a lovely photograph of the cookie ? as I had ordered as a gift. Highly recommend, thank you guys!

Excellent service, kept me up to date and informed about my order, even sent me a photo of it as it was a present being posted directly to someone else. Arrived promptly and in a good condition. Happy customer.

Absolutely outstanding service, product is perfect, and brilliant communication throughout....cannot fault, thank you so much, first class company ?????Many thanks again, Helen.

Thank you for pleasant transaction. Excellent buyer. A++++++.

Super Ebayer, great communication and very fast delivery, thank you! X

Just eaten one - delicious and arrived intact - thanks *****

Hope to deal with you again. Thank you.

Wow. Perfect in everyway. Amazing communication, packaging and thoughtfulness.

Delicious cookies and prompt delivery!

Fantastic lovely cookie, great communication very happy

The cookie was amazing, my friend loved it! Amazing customer service, kept informed all the way. Highly recommended! 5 star service and product!

now my favourite seller for posted presents ! love these

They were very prompt and let me know when my product was dispatched

Hope to deal with you again. Thank you.

I ordered a giant cookie as a thank you gift, my friend was so pleased with it and said it was absolutely delicious! Andy and Sarah were great with communication and quick to post it out. Would highly recommend them 🙂

Another great gift from Andy & Sarah's,sent quickly,well packed. Thank you

1. They are amazing,2. Great communication3. Excellent work4. For that quality the price that we paid is more than fair Well done guys Thanks ♥️

Bought them for a stand by. Thay came in handay

Came early- bless. Lovely to eat- packaged airtight. A treat.

Fast payment. Perfect! THANKS!!

Well presented, vacuum packed for freshness, delivered next day and I'm told tasted delicious!

Bought a cookie for my fiance's birthday and it was delicious! Even better I was able to order gluten free which for a coeliac was really appreciated as it is still a struggle to find gf options. Communication of delivery was clear and was received in plenty of time. Would recommend and order again! Thank you!

Thank you for your support. I hope you enjoy your shopping!

Good Buyer! Hope to do more business in future !

My daughter enjoyed her delicious gluten free celebration cookie! Excellent communication will definitely buy again.

Absolutely amazing and taste so good, definitely would buy again ! Highly recommend ?

I am on my 6th personalised cookie now and they are the best cookies I have ever tasted and everyone I have gifted them too has said the same !! Fabulous service and fabulous cookies !!

Delicious gluten free cookie. The kids were delighted with their surprise gift in the post! Have recommended your company to everyone I know. Will shop again!

Helpful seller. Thank you.

Amazing! Best brownies I've ever had! Definitely will be ordering again, so glad I found you!

Great product and brilliant service

Beautiful brownies. Very rich and chocolatey. Definitely recommend

Fab cookie, beautifully decorated and and reasonably priced. Delivery was quick too.

Very pleased with item, great sellerA++

We use Andy & Sarah's to send out welcome cookies for new employees and everyone always LOVES them, we get fantastic feedback for them every time! Thanks guys 🙂

Delicious double chocolate cookie beautifully iced for my sons birthday. Arrived extremely quickly and brilliantly packaged. Would highly recommend.

Great communication. A pleasure to do business with.

Honestly the best cookie I've ever had!!!! Received a giant cookie as a gift and loved it so much, so I ordered one as a valentine's gift for my partner. Lovely personalisation, SO fresh (vacuum packed), and so so tasty. Will definitely be buying again!!

I have ordered giant cookies a few times now as treats for family and friends and I am always impressed with the ease of ordering, the great communication at every step in the process and ultimately my recipients have told me that the cookies are yummy 🙂 Im just waiting for someone to order me one so that I can taste them too...:) I would not hesitate to recommend Andy & Sarahs Home kitchen to anyone - A great service, thank you

Super fast payer deal with any time

Thank you for your purchase!

Great service 🙂 item well packaged 🙂 can't wait to use 🙂 love it 🙂

Really tasty brownies, delivery was sooner than I expected. Would purchase again

Thank you for an easy, pleasant transaction. Excellent buyer. A++++++.

Found Ebays conflicting delivery time confusing but cookies were YUMMY !

I would like to say I highly recommend Andy & Sarah's cookies. Not only do they taste Delicious. But the customer service is outstanding and amazing 5 star

Thank you for making my husband special day be even more special ??

Amazing service, always kept up to date with progress and being sent a picture is a fab idea when sending to someone else as a gift 🙂

Fantastic gluten free blondie cookie well packed and lovely and fresh and speedy delivery and amazing correspondence

Excellent customer service, unique and tasty flavours. Highly recommended. Thank you!

Great service and item. So helpful. Thank you very much. 5*****

Great seller thanks 5* super fast delivery

Great service and contact from seller. Very pleased with cookie

100% would recommend speedy delivery tasty gorgeous cookie 10x better than millies cookies and 1/3 of the price will be ordering again for sure !! Thankyou

I ordered the large fudge cookie for my daughters 9th birthday . It had a birthday message on it too . It was lovely , just the right size , tasted delicious and we were kept informed by email every step from ordering to decorating to delivery . I would highly recommend Sarah and Andy's . My daughter loves it .

Absolutely amazing sellers so kind and thoughtful went above and beyond & yummy!

Absolutely 5 star, was very impressed with all the communication via email after I had brought the Giant Cookie letting me know what was happening. I was even given a discount code so made everything even more perfect! Will most certainly buy from them again Thankyou so much for everything ?& also quick to reply to me on eBay when I asked about what the gift wrapping looked like and they sent me pics whilst also updating their listing. Couldn't of bought from a better place!! ??

Great Service.Really easy to order and arrived the next day. I was looking for a gift for my Dad and all other places I would have had to wait 2 week until delivery. With Andyandsarahs I was able to order the cookie for the day I wanted. It looked great too!

I ordered a giant gluten free double chocolate Brownie at very short notice. In a little over 24 hours it had been made, sent and received.Fabulous customer service, the lady i spoke to went the extra mile to ensure i received it in time.We haven't tried it yet but looking forward to it, and once i have i will give another review.

Thank you for an easy, pleasant transaction. Excellent buyer. A++++++.

Amazing delivery and communication. We got a gluten free cookie and it was so nicely packaged and was absolutely delicious, couldn't fault❤️

Wow, fantastic! Will definitely be placing another order soon. Thank you!

Quick delivery, wrapped well, looked amazing! As described, highly recommend! 🙂

Great value thankyou looks yummy

Great seller, great products

Great communication. A pleasure to do business with.

Cookie arrived and my partner was so happy it made his lockdown birthday special. Would recommend as not too expensive and something different to a birthday cake. Would definitely use again for another occasion.

The best buyer, fast payment and good communicatiom

Thank you for my son's triple chocolate cookie, was absolutely lovely, you did everything we asked, couldn't fault anything from ordering too receiving our cookie, highly recommended, and be ordering another very soon for my nieces birthday, thank you so much excellent service x

I bought a giant personalised cookie and an assortment of fudge as a birthday gift. The package was thoughtfully wrapped and the goodies inside were delicious. Would highly recommend.

Cookie was delicious and arrived in perfect condition the following day. Friendly and helpful status updates from Andy & Sarah.

Reasonable price, excellent product, excellent service.

Received a giant personalised triple chocolate cookie for my birthday! Literally the best cookie i have ever eaten, absolutely amazing! Highly recommended:)

Arrived next day & as described, well packaged. looks delicious!!Will definitely order again Thank you

Lovely cookie...extremely quick delivery ?

Order an Easter cookie which was amazing as usual. Have ordered giant personalised cookies a few times from this company & always delicious.

lovely .great birthday cookie .thanks

perfectly packaged + beautifully presented! arrived right on time too

I've ordered from Andy & Sarah's multiple times and they are honestly the best cookies! The cookie with fudge is one of the most delicious things I've ever had! Couldn't recommend them more, whenever I order for someone else I always want to add another on for myself!

Great communication. A pleasure to do business with.

Thank you for an easy, pleasant transaction. Excellent buyer. A++++++.

Good buyer! Highly recommended!! +++++

Great service, super fast delivery and amazing tasting cookie - thank you!!

I ordered a cookie last minute customised for my little sister's birthday and it arrived the next day, beautifully packaged and she totally loved it! Thank you!

A great service from start to finish. Fantastic communication. Arrived the next day and was well packaged. Daughter said it was delicious. Would definately recommend to anyone.

Super professional, super fast and SUPER TASTY! So highly Recommended!! Thanks!!

I ordered personalised cookies for both my son's birthday's. The website was easy to use, communication excellent and the cookies were delicious 😋 Packaged well so perfect when they arrived. Would order again.

Fantastic service, I had confirmation emails sent to me with each step of the order. Beautifully decorated, they kindly sent me a pic of a cookie as it is a gift for my niece. I will be using Andy and Sarah's service again for sure!

From ordering to delivery communication is amazing. Product as describe. Friend stated that this was the best Gluten Free product she has ever tasted! Made her smile from ear to ear - thank you!

As always very satisfied speedy delivery fantastic cookies! ?

Thank you for an easy, pleasant transaction. Class Ebayer!! A*****

Super fast delivery, good packaging . Excellent product highly recommended. 5*

The cookies were absolutely delicious! Better than I expected!

Amazing customer service, cookie and delivery! X

This looked great and tasted yummy ( I am told by my nephew whos 18th treat this was) It arrived the next day after dispatch which was what we had hoped for. Thank you very much i would thoroughly recommend and will certainly use again. Super service and kept me up to date all along the way. Even got a picture of it emailed to me - nice touch.

Top customer, easy transaction, a HUGE Thank you from iDEALS UK PACKAGING

Best priced personalised cookies and best taste, not that horrific sugar icing flavour that just makes you feel sick like others on the market, with andyandsarahs you can actually taste the cookie, the handmade fudge is also unbelievably tasty and fresh

Absolutely brilliant service. My grandsons say they taste superb and loved them. Would highly recommend. Raspberry was the fave of the day ?

Thank you for your purchase ***World of Stickers Ltd***

Bought for my daughter's 18th and it went down very well- would definitely order again.

I would without a shadow of doubt recommend using this lovely company. I was kept informed at all times which I was very appreciative of as I was buying for a special birthday and wanted everything to arrive before the day. It was well packaged and I am told very tasty.

Wow!! Amazing cookies, enjoyed by the whole fam 😍😍 thank you Andy and Sarah

I couldn't love Andy & Sarah's home kitchen more. I've bought 4 cookies from them now and everyone has been perfect, delicious, delivered on time and really reasonably priced. They're customer service is amazing, and they will send you a picture of the cookie if it's a gift and you won't be able to see it. It's a standard now, if it's your birthday and I can't get to you, have a giant gorgeous cookie from these lovely people!

Fast dispatch, good seller, would recommend. Product as described.

I have spent years searching the lands for gluten free cookies that actually taste like cookies and not just lies! And with stumberlling upon Andy and Sarah's Home Kitchen, I have found the Holey Grail of gluten free cookies! Not only are they HUGE but taste fantastic, so good infact I had to double check the packaging the first time I tried one because I wouldn't believe they were gluten free. I sent one to a friend as an engagement present and they loved it so much they ordered more a few weeks later. We love them so much we are now considering making this a monthly treat. I should also mention that they are fabulous with the decorations/ personalisation. I have put different requests in and they always make them beautifully. This time we asked for a dinosaur theme and they damn well delivered! I honestly can't rate the taste and customer service highly enough!

V. Good cookies highly recommended!

Wonderful service & response! I wanted to order a personalised cookie for valetines day, and literally most websites I looked at were all sold out or couldn't deliver before Vday! Andy and sarahs to the rescue! Can't wait to try them - they look delicious and perfect condition after delivery 🙂

Well packaged good quality yum a+++++++

Arrived in perfect condition, many thanks!

Beautifully presented item as always, just a shame I didn't notice that its changed to both milk and white chocolate Instead of just white chocolate!

Great ebayer would recommend 🙂

Arrived quickly. Were delicious. Will definitely buy again. Thanks

Excellent item, it's absolutely delicious and the sweets was a lovely touch 5***

Thank you 5*. Any problems call us on 07717004928 - www.TackleTheOutdoors.co.uk