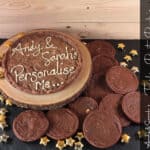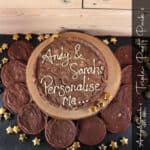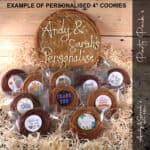 PARTY PACK – Triple Chocolate Cookie
£24.99 – £42.99
If nothing will add to cart: please be sure to select all options and fill in all text boxes marked with a red * above
Our Triple chocolate giant cookie personalised, with party favour 4″ cookies on the side!
Our Party Pack cookies come with your choice of quantity in our 4″ cookies to give to party-goers while the special person gets to keep the giant one all to themselves.
Each 4″ cookie is individually wrapped and can be customised as shown in the pictures, with a text badge sticker or an image badge sticker of your choice, the 10″ Giant Cookie can also be personalised with white or milk chocolate.
This product is suitable for weddings, birthdays, special events and pretty much any party.
A wonderfully soft and chewy, Brown chocolate cookie's, with milk and white chocolate giant chips.
Wonderfully coloured brown using pure chocolate, along with milk and white chocolate chips makes this a chocolate lovers dream.
Giant COOKIE DIMENSIONS:
Size: Round 25cm (around 10 inch)
Weight: e 480g  (Approx)
Thickness: 1 cm (Approx)
4″ Cookie Dimensions
Size: Round 10cm (around 4 inch)
Weight: e 50g  (Approx)
Thickness: 0.4 cm (Approx)
The cookie will arrive in a vacuum-sealed package to ensure freshness for up to two weeks, once opened consume within 5 days.
We offer free personalisation on this product in White or Brown chocolate writing.
Use within 5 days of opening, Store in a cool dry place.
Ingredients / Allergy Information
INGREDIENTS: Sugar, Butter (MILK), WHEAT Flour (Contains Calcium Carbonate, Iron, Nicotinamide, Thiamin), Chocolate (Sugar, Cocoa Butter, Dried Skimmed MILK, Dried Whole MILK, Dried Cream (MILK), Whey Powder (MILK), Lactose (MILK), Butterfat (MILK), Emulsifier (SOYA Lecithins), Vanilla Extract, Cocoa Solids 24% minimum, Milk Solids 14% Minimum), Cocoa Powder, Salt, EGG, Vanilla Extract, Raising Agents (Monocalcium Phosphate, Sodium Bicarbonate).
For allergens including cereals and gluten please see ingredients listed in BOLD. 
Allergy Advice: Although the product is made in a kitchen that does not contain nuts or peanuts, our ingredients such as milk chocolate do have nut and peanut warnings, we ask for nut and peanut sufferers to proceed with caution. Due to this, All our products may contain cereals, gluten, egg, nuts and peanuts. We can not guarantee an allergen-free product.
We are so pleased to say that our cookies have received 5 out of 5 stars on all our independent third-party review platforms, why?
Our giant cookies are baked to perfection, they are deep rather than thin, sweet and moist rather than crunch and dry, and have a uniquely traditional flavour that you just can't find with our competitor's cookies. We are so confident about this, that if you find this to be untrue, we will give you your money back.
We understand that our competitors use packet mixes then cover the cookie up in icing, They do this for speed and profits, it's faster and cheaper to make the cookie. We prefer using fresh ingredients, no packet mixes, it takes us longer and is far more expensive but the results speak for themselves, as the flavour is unbelievable.
Our giant cookies are baked using traditional ingredients, no packet mixes here, we use real butter, fresh eggs and make our own self-raising flour, giving consistent bakes, best possible flavour, and high-quality cookies every time.
We Guarantee, you will not find a better cookie within this price range.
We also personalise using chocolate, we don't decorate or personalise your cookies with surgery icing, we prefer to keep the flavour in ur cookies and use high-quality chocolate to put your personalisation on the giant cookies. We vacuum pack all cookies to ensure total freshness for as long as two weeks. We bake and dispatch on the same day for next day delivery.
Our cookies aren't chocolate chip cookies but chocolate chunk cookies, we place big bits of premium chocolate into our cookies so that you get that real chocolate satisfaction in every bite, the huge chunks really do make a big difference over chocolate chips.
Whether it be a personalized giant cookie for a birthday party, a full party pack of cookies, a simple treat box for yourself, or a happy anniversary cookie, we got you covered and we guarantee you will be satisfied with your Andy&Sarahs Cookies.
What is Gift Wrapping & Messages in the box?
Gift wrapping is a great way to add a little extra luxury to your personalised sweet treat gifts and can now be added during checkout for an extra cost of £2.99, our gift-wrapping service is a one-off charge for the entirety of your order regardless of the number of items you have in the cart.
We have shown an example image of the gift wrapping in the displayed pictures above.
You will find the message in the box inside the parcel, it is in the form of a colour printed message A5 card, it should be the first thing the lucky receiver should see upon opening the box, please note.
The gift wrapping is the product in its vacuum bag to keep it fresh and safe, along with paper and tissue wrapping to present it as a well-presented gift. Please note, it is not a box within a box.
If you order more than one giant cookie or giant brownie we will gift wrap them in individual boxes and place them inside a delivery bag so that they are all separate but delivered together in the form of a parcel (not letter box friendly), if they are for different people, we will place the recipient's names on each box so that you do not need to open the box.
We never send any receipts or delivery notes with any order as all this is electronically sent to you via email
Non-gift wrapped items will be sent vacuum packed and all bundled into one large box with a basic non-colour message in the box.
Quick arrival great item. Happy with purchase. Would buy again from seller

As always I am a very satisfied customer! Thx once again! ?

Beautiful brownies. Very rich and chocolatey. Definitely recommend

Fast postage 10/10 recommend to all

Amazing cookie, amazing customer service, will definitely be ordering from Andy & Sarah's again

Brilliant quality Thanks so much ?❤️??? beautiful vert professional love it

Delicious double chocolate cookie arrived extremely quickly. Beautifully iced for my sons birthday and extremely well packaged.Would highly recommend this company.

Great communication. A pleasure to do business with.

Top class eBayer, highly recommended!!

Excellent service. We ordered a cookie for a gift and it looks fantastic just what we ordered. Will cheer our friends up. Thank you for the quick turn around and keeping us updated too throughout. Will definitely order again.

Totally amazing. Super tasty product which was stunning and arrived on time ?

Great service and item. So helpful. Thank you very much. 5*****

Thanks so much for getting this to me so quickly! Tasted amazing too! X

Great eBay seller , Fantastic cookie, Quick delivery, Thank you

Helpful and honest beater 1st class ???

Delicious double chocolate cookie beautifully iced for my sons birthday. Arrived extremely quickly and brilliantly packaged. Would highly recommend.

Thanks so much for the speedy turnaround on the cookie, and fudge order! The recipient was over the moon with both - they said both were really tasty but that the cookie in particular was absolutely delicious! They are considering an excuse to have one delivered to themselves ?, as a gift from themselves.

Thank you for an easy, pleasant transaction. Excellent buyer. A++++++.

Excellent service, kept me up to date and informed about my order, even sent me a photo of it as it was a present being posted directly to someone else. Arrived promptly and in a good condition. Happy customer.

Fab! Highly recommend, great service and comms. Very happy

Good buyer! Highly recommended!! +++++

Ordered the 8inch brownie and some vanilla fudge from Andy & Sarah's kitchen and oh my goodness it was the best brownie and the nicest fudge I've ever had! I'm hooked and going to re-order again soon for a treat.The brownie lasted ages, I got it personalised for my Husband's birthday and we cut it up and it lasted us about 3 days (surprisingly at the rate we were eating it!) The brownie was perfection, lovely and moist in the middle (I hate that word but absolutely is necessary to describe how lovely it was) the chocolate chunks throughout it tasted lovely too. At the time of ordering I couldn't really see the delivery cost and it wasn't till the end, once I'd completed the order (I'm sure I did PayPal as the method to save filling in billing details) that I noticed it was £4.99 for delivery, I did initially think this was a bit steep but the order arrived very prompt and honestly tasted so good I'll gladly re-order and highly recommend.

Just eaten one - delicious and arrived intact - thanks *****

Fantastic once again. Next day delivery and tastes brilliant. Thank you!

A pleasure to do business with!

Amazing service, super quick delivery and nicely packaged and tasted great! Will definitely use again!

Really happy with this seller. Lovely item. Fast delivery. 5* Thank you

Great Service.Really easy to order and arrived the next day. I was looking for a gift for my Dad and all other places I would have had to wait 2 week until delivery. With Andyandsarahs I was able to order the cookie for the day I wanted. It looked great too!

I ordered this as a gift and the recipients are delighted as one cant take anything with colours and this was perfect. Well packaged and I am told extremely delicious and tasty. When I called took time to answer all my questions - I highly recommend this company does what it says on the tin !!!

Prefect thanks.It's gift. She loves it n her whole family said so good.Recommed.

Great service and great looking cookie! I ordered the birthday cookie as a gift for my nephew and was assured it tasted delicious!

I would without a shadow of doubt recommend using this lovely company. I was kept informed at all times which I was very appreciative of as I was buying for a special birthday and wanted everything to arrive before the day. It was well packaged and I am told very tasty.

I have one happy daughter she loves the cookie thank you so much I will be bk x

I ordered two birthday cookies for my son Brendon for his birthday on a Wednesday. I ordered Monday afternoon. They were delivered Wednesday morning. Both were perfect. Lovely taste,well made,well decorated couldn't fault it. I especially loved the step by step communication you receive throughout the process. It was value for money and delicious. I will and am already recommending to all my friends.

Wonderful customer service and an absolutely delicious cookie for my son's 13th birthday. Well packaged, soft, chewy and fresh - went down an treat!!Will definitely be ordering again and recommending to everyone

I bought a giant personalised cookie and an assortment of fudge as a birthday gift. The package was thoughtfully wrapped and the goodies inside were delicious. Would highly recommend.

Was gifted one of your cookies and all I can say is wow!!!!!!

Excellent customer service, very friendly and helpful and of course the product was delicious, would recommend to everyone, thank you.

I am on my 6th personalised cookie now and they are the best cookies I have ever tasted and everyone I have gifted them too has said the same !! Fabulous service and fabulous cookies !!

As described, quick delivery - looks delicious !

Amazing service, delivered on time and the cookie was amazing! Definitely would use again!

Wonderful service & response! I wanted to order a personalised cookie for valetines day, and literally most websites I looked at were all sold out or couldn't deliver before Vday! Andy and sarahs to the rescue! Can't wait to try them - they look delicious and perfect condition after delivery 🙂

Good buyer! Highly recommended!! +++++

Excellent service. Lovely Cookie sent to Grandson during lockdown. Thank You

Came early- bless. Lovely to eat- packaged airtight. A treat.

Feel more in control?now ??

A great service from start to finish. Fantastic communication. Arrived the next day and was well packaged. Daughter said it was delicious. Would definately recommend to anyone.

Absolutely gorgeous !!!! Best birthday ever,according to my daughter !

The cookies were really tasty and packaged well so no breakages! The staff went out of their way to help me with my order of 10 cookies to different addresses - thankyou!

Great service, super fast delivery and amazing tasting cookie - thank you!!

Second order great! I have ordered more for my niece bday! Thx again ?

Amazing customer service, cookie and delivery! X

We have had several cookies from here and they have been fantastic, and lasted for nearly a week

Wow wow wow Amazing customer service from start to finish. Timely and accurate updates No hidden surprises Cookie tasted lovely and enjoyed by all who tasted it White chocolate and raspberry taste great together and can highly recommend

This was a fantastic service, I was kept informed about every stage of the transaction from the original order through to the delivery. I was also pleased that a photo could be provided to me of the finished product. The cookie was a gift and I have been told it was delicious and the recipient would be very happy to use this company again

Sent two cookie cakes as a gift, easy to order, delivered on time, well packaged, best of all - really good! Won't hesitate to order again.

The cookie was amazing, my friend loved it! Amazing customer service, kept informed all the way. Highly recommended! 5 star service and product!

Great service fast delivery and perfect gift thank you

Nice buyer! Prompt payment~ Thank you for your support!

Lovely cookie. Fantastic ebayer. Great communication *****

Absolutely amazing and taste so good, definitely would buy again ! Highly recommend ?

Good Buyer! Hope to do more business in future !

I ordered a giant cookie and found the ordering very easy and tracking delivery was great. Spot on. Delivery was quick. I made an error in my email address so they contacted me to let me know and it was fixed straight away. The cookie itself was well packaged and cookie was perfect. I'm told by my cookie recipients that the cookie tasted delicious!!! Highly recommend. I thought price was very good too compared to other cookie companies.

I sent it for a bday present they were very happy with the taste would recomend

Absolutely brilliant service. My grandsons say they taste superb and loved them. Would highly recommend. Raspberry was the fave of the day ?

Well presented, vacuum packed for freshness, delivered next day and I'm told tasted delicious!

ALLWAYS THE BEST FLAVOURS FROM VAPOURS-R-US THANK YOU FOR YOUR PURCHASE

I was really impressed with everything! Ordering was straightforward and communication was great, the order updates and photo of the finished product were nice touches, and it arrived quickly and well packaged. It was ordered as a gift and the recipients were very happy, even said they preferred it to other giant cookies they'd had!

Bought as a gift - it arrived on time and the recipient says it was delicious!

Speedy despatch! Great tasting cookies at a competitive price. Very pleased.

100% would recommend speedy delivery tasty gorgeous cookie 10x better than millies cookies and 1/3 of the price will be ordering again for sure !! Thankyou

Good buyer! Highly recommended!! +++++

my favourite present to send ,really nice and good value

Thank you 5*. Any problems call us on 07717004928 - www.TackleTheOutdoors.co.uk

Really yummy and good value for money.

Fantastic customer service , bought as a gift so it's been very unfortunate that I haven't had the opportunity to taste the delicious looking cookie , they even contacted to share a picture

Great my nephew loved it thanks

Absolutely love my giant cookie! Amazing customer service, great prices and really fast delivery! Thank you so much! I will definitely be ordering again and recommending friends and family! Thank you once again!

Ordered a vegan cookie for a birthday - prompt delivery, delicious cookie and personalised exactly as requested. Would thoroughly recommend!

Absolutely 5 star, was very impressed with all the communication via email after I had brought the Giant Cookie letting me know what was happening. I was even given a discount code so made everything even more perfect! Will most certainly buy from them again Thankyou so much for everything ?& also quick to reply to me on eBay when I asked about what the gift wrapping looked like and they sent me pics whilst also updating their listing. Couldn't of bought from a better place!! ??

Honestly the best cookie I've ever had!!!! Received a giant cookie as a gift and loved it so much, so I ordered one as a valentine's gift for my partner. Lovely personalisation, SO fresh (vacuum packed), and so so tasty. Will definitely be buying again!!

Amazing!!! So tasty and quick delivery, kept informed throughout despatch/delivery process

Cookie arrived and my partner was so happy it made his lockdown birthday special. Would recommend as not too expensive and something different to a birthday cake. Would definitely use again for another occasion.

The cookie was delicious and delivered very quickly! Exceeded my expectations!Very helpful over message when I thought I had made a mistake on my order - replied promptly and helped me figure out a solution!Will definitely be ordering from here again!

Great communication. A pleasure to do business with.

A*** excellent many thanks

Delicious cookies and prompt delivery!